Amaranth Court is set in a private 190 acre estate, offering an idyllic setting with delightful grounds including Capability Brown parkland and beautiful formal gardens designed by Humphry Repton. This magnificent property dates back to 1283 when its original purpose was for a monastery, and was renowned as a centre for learning until King Henry VIII dissolved monasteries in the UK in 1539. The house became the home of Princess Elizabeth, who lived here during her youth, and continued to own the house until her death in 1603. The house remained a private home, with the Duke of Bridgewater purchasing the estate which remained in the family until 1928, and undertook the reconstruction of the house in the early 1800s under the watchful eye of James Wyatt, the renowned architect, in the fashionable Gothic Revival style.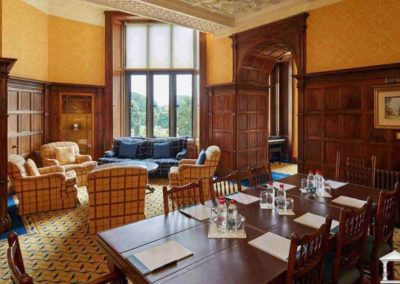 During the First and Second World Wars, the house was used as an emergency hospital, with an incredible 2,700 babies born in the maternity unit during the Second World War. In the interim, the house was purchased by Urban Hanlon Broughton in 1928, and was used as a training centre for the Conservative Party, before becoming a finishing school for young ladies in 1949, before becoming the present day Amaranth Court Business School in 1959. Today, Amaranth Court is available as a luxurious venue for private parties, weddings, conferences and corporate events, with a world class team to help you plan your event to perfection.
The facilities available here are world-class, and each room offers its own unique character, from the opulence and grandeur of the Lady Marian Alford room to the modern convenience of the Angus Room, you are sure to find a space to suit your event, no matter how large or small. The immaculate interiors, beautiful period antique furnishings and original oil paintings create a very special atmosphere, yet discreetly offers every convenience to satisfy the most discerning 21st century guest.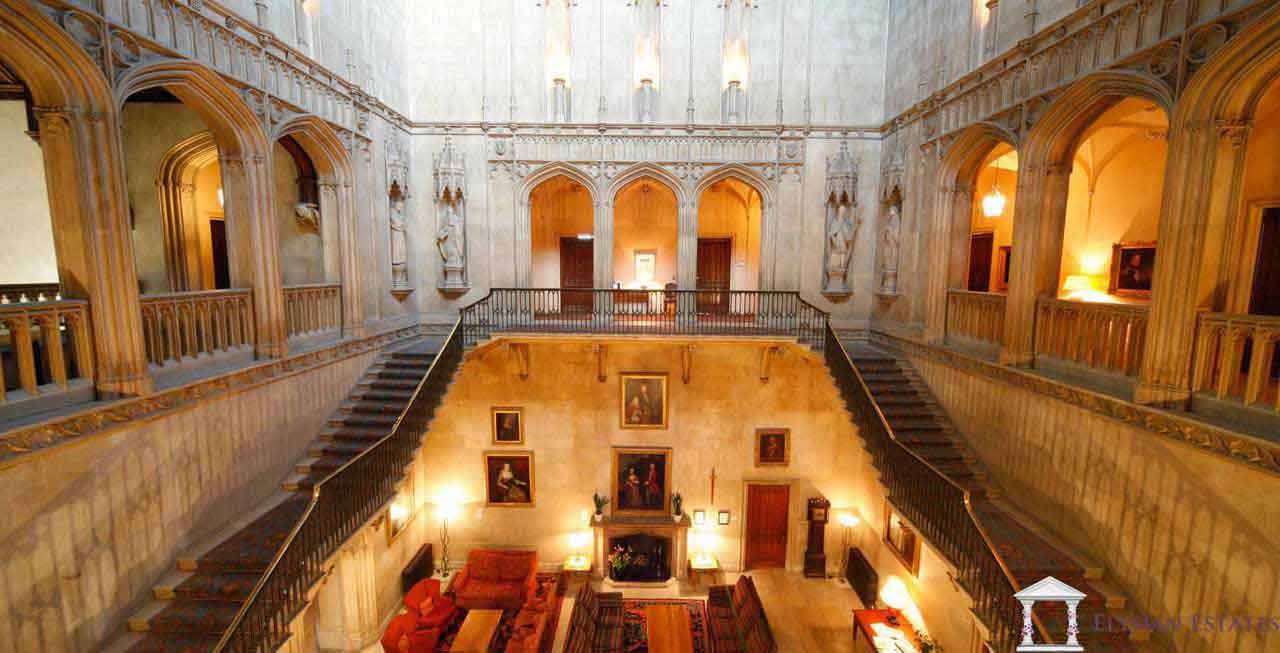 The magnificent Main Hall is simply breath-taking, with stunning Neo-Gothic carved stonework creating a truly spectacular setting, with a sweeping staircase and a beautiful galleried landing above this room is ideal for weddings, drinks receptions or even product launches. The Lady Marian Alford Room is full of elegance with beautiful Italian marble and decadent gold gilt frescoed ceilings, and boasts beautiful views over the grounds. The Wyatt Room is very grand and atmospheric with wood panelled walls, beautiful high ceilings and vast windows opening directly on to the terrace, making this a wonderful choice for celebrations, weddings or hosting important clients.

Yet there are more intimate rooms too, from the delightful Old Library with stunning gold leaf ceilings and large picture windows opening onto the lovely Italian gardens, to the charming Hoskins room with stunning detail and a lovely fireplace, creating a wonderful space to relax and enjoy the surroundings. Repton Hall is an excellent space for banquets, again with lovely views and beautiful marble detail, and there is also a fully stocked bar which is available for groups and individuals throughout their stay for cocktails and drinks.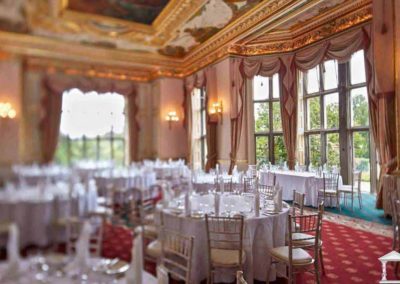 For corporate events and conferences Amaranth Court offers unrivalled facilities, with a wide choice of meeting rooms and every amenity you could wish for, along with award-winning catering and a dedicated event manager to ensure your event exceeds expectations. Menus are always tailored to suit individual tastes and requirements, so whether you are looking for private dining, a lavish banquet, a relaxed BBQ or simple buffet, you can be sure of only the highest standards of cuisine and attention to detail.
The extensive leisure facilities at Amaranth Court are also available for guests, including a fully equipped gym with a large swimming pool, sauna and steam room, with daily exercise classes and table tennis, squash courts and tennis courts also available, along with an extensive library. Outside, you will find miles of walking and cycling paths through the beautiful gardens and National Trust woodland, along with complementary bike hire, a pitch and putt golf course and a croquet lawn available for guests to enjoy throughout their stay.

The 190 bedrooms all offer en-suite bathrooms, including 11 executive suites. All bedrooms are well appointed with complementary Wi-Fi access and televisions, and comfortable beds to ensure a restful stay.

Whatever the occasion, Amaranth Court is sure to impress even the most discerning guests.