Ayan Court
Devon, England
Prices from £5,600 for 1 night midweek
Sleeps 82 people
Enjoy complete flexibility and exclusivity at Ayan Court, a beautiful Baronial mansion set in the idyllic Devon countryside with glorious views. The gorgeous interiors offer more than enough Downton-esque glamour to satisfy the most sophisticated guests, with enough space to throw a lavish party yet feeling like a real home-from-home, albeit on a grand scale! The elegant reception rooms offer dining for up to 120 guests, with truly versatile spaces and even your very own bar to help celebrations along. The 34 bedrooms are all beautifully furnished, many with large en-suite bathrooms, and the spectacular staircase alone will make you feel like you are Lord or Lady of the Manor. Throw in the complete flexibility in catering, drinks and timings, coupled with complete privacy, beautiful grounds and excellent accessibility (just 12 minutes from the M5 and just 2 hours from London Paddington by train), and you have the ultimate country house venue for decadent parties, elegant weddings and inspiring corporate events in this most beautiful of settings.
Information
Ayan Court as it stands today dates back to 1868, designed in the Gothic Revival style by noted architect Benjamin Ferry as a gift for the new bride of Charles Troyte, the 18 year old Katherine Walrond. The current owners acquired the Court in 2012 and began a labour of love restoring this historic property to its former glory, with a touch of 21st century style injected along with the stunning original features that afford the property its Grade II Listed status.
DISCOVER MORE...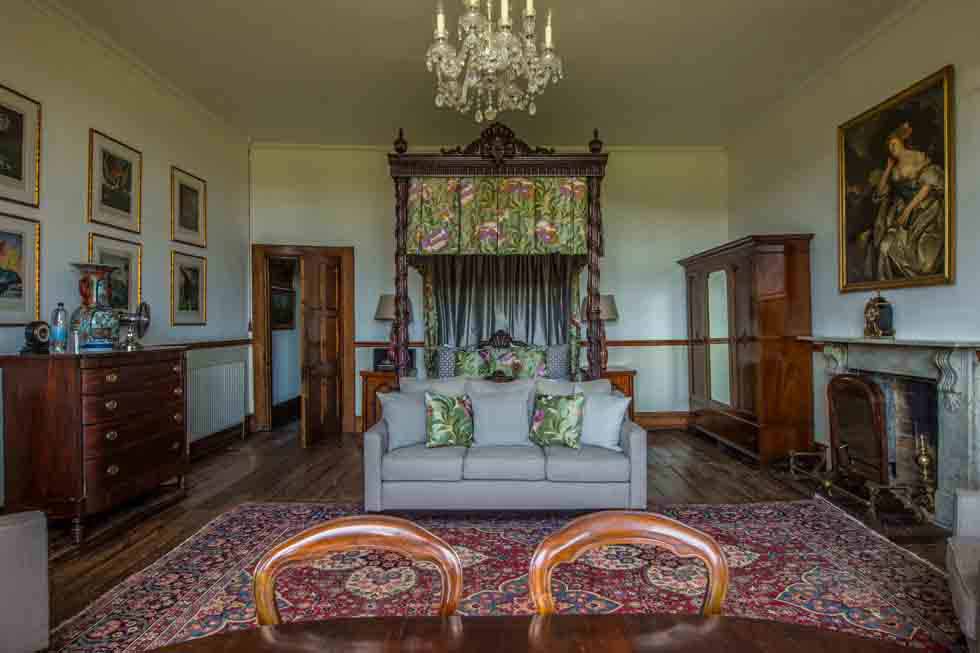 Accommodation
Ayan Court offers beautiful accommodation ideal for large groups, with luxurious bedrooms to accommodate up to 80 guests. The living spaces are lavishly furnished and designed with rich colours and opulent fabrics, making the perfect setting for celebrations, weddings and parties, and the beautiful grounds are ideal for outdoor games and activities.
DISCOVER MORE...
Gallery
Explore the images of this stunning property here, including the beautiful bedrooms, magnificent reception rooms and grounds…
DISCOVER MORE...
Pricing
Find out more about prices to exclusively hire Ayan Court here, with reduced rates available for smaller groups or include all bedrooms for up to 82 guests….
DISCOVER MORE...
Facilities
• Free wireless internet access
• Large flat screen TV with DVD player
• Board games
• Library
• Board games
DISCOVER MORE...
Services & Activities
Sleeps up to 80 guests, or up to 50 guests one person per bed
Up to 120 guests for dining/celebrations
Indoor and outdoor wedding licence for up to 120 guests
No corkage charge
No caterer or supplier restrictions
Wide corridors and doorways, ramps available for outside steps
Grass tennis court
Five a-side football pitch
DISCOVER MORE...
In the area
Ayan Court is set in the beautiful Devon countryside near Tiverton, yet offers excellent transport links located just 12 minutes from junction 27 of the M5 motorway. Exeter is 40 minutes' drive, Bristol is 1 hour 10 minutes' drive, and central London is 3 hours by car.
DISCOVER MORE...
Elysian Estates FAQ
Can We View the Property Before Booking?
What Time Is Check-In and Checkout?
Are there any Minimum Stay Requirements?
How can I be sure I have chosen the right property?
Why Book with Elysian Estates
We have personally visited and inspected every single property in our portfolio and are extremely selective about which properties we recommend to our clients, so you can rest assured that each property meets our strict standards and is an accurate representation of the details and photographs you see on our website. We value honesty and integrity above all else and will ensure you are aware of anything you may need to know before you book, be it a creaky floor board or a limited mobile phone signal. Our property visits give us an in-depth understanding and first-hand.
Other Properties you might also be interested in