Ayan Court as it stands today dates back to 1868, designed in the Gothic Revival style by noted architect Benjamin Ferry as a gift for the new bride of Charles Troyte, the 18 year old Katherine Walrond. The current owners acquired the Court in 2012 and began a labour of love restoring this historic property to its former glory, with a touch of 21st century style injected along with the stunning original features that afford the property its Grade II Listed status.

The ethos of the owners is to enable anyone to enjoy decadent country house living, exactly as you want it, with complete flexibility in how you wish to arrange your stay. The rooms are all beautifully furnished yet are enough of a blank canvas that you can really make it your own, and all of the rooms can be configured to suit your needs – whether you want to dine in the Great Hall and party in the Dining Room, your wish is our command. "Relaxed Grandeur" is the theme here.

Ayan Court is only available on an exclusive use basis, ensuring you and your guests enjoy complete privacy, with an entire country house playground at your disposal. All of the receptions rooms here lead off the Great Hall, creating a wonderful flow to the house and whether you are 20 or 130 guests you will never feel lost or cramped. Despite the huge 33,000ft of space, Ayan Court always feels connected, with no dark corridors or disjointed spaces for guests to wander off and become separated.

The stunning interiors feature hand-picked wallpapers and fabrics, and a carefully curated collection of artwork, antiques and furniture from around the world, with no expense spared in making this a beautiful, luxurious home fit for the 21st century. Yet the house never feels stuffy, this is a place to relax, kick off your shoes and sink into the sumptuous sofas and truly enjoy the surroundings, with a wonderfully welcoming and homely feel throughout.

The magnificent reception rooms feature stunning original features, grand fireplaces and chic furnishings, and many offer beautiful views over the idyllic grounds. The Great Hall is resplendent with original Jacobean oak panelling, a vast fireplace, magnificent stone pillars and a Grand Piano, and offers a truly versatile space for anything from dining, civil ceremonies, presentations, drinks receptions, discos or simply as a fabulous lounge. The spacious Yellow Room is traditionally the Drawing Room, with a beautiful mural ceiling, elegant crystal chandeliers and glorious views this is a wonderful space filled with natural light.

There is a well-stocked Library which adjoins the Yellow Room, with hundreds of books for guests to enjoy and a beautiful fireplace, and a Snug Bar makes the perfect setting for sophisticated cocktails next to the cosy log fire. The elegant Diamond Tapestry Room is traditionally the Dining Room, ideal for a banquet fit for a king, with beautiful tapestries and antiques creating a very special ambiance.

Ayan Court is let on a self-catered basis, and whilst we can of course assist you in arranging any catering or staffing you may need for all or part of your stay (or you are welcome to bring your own), you will find the spectacular double height vaulted Octagonal Kitchen fully equipped with everything you may need, including pots, pans, cutlery, crockery, glassware and one set of linen for 130 guests. There is also a Butler's Pantry and an additional Galley Kitchen, perfect for making a quick coffee or rustling up a snack.

The grand sweeping staircase leads to the luxurious bedrooms, which when combined with the Garden Wing, Little Lodge and Gate House Lodge offers 40 bedrooms in total, accommodating up to 92 guests in complete comfort. All of the bedrooms are individually designed and unusually for an historic house, offer great equality, largely due to the architecture of the building creating 16ft high ceilings even in the attic rooms, making Ayan Court a great choice for corporate events as well as celebrations and weddings. Many of the bedrooms offer flexible sleeping arrangements with twin or double rooms, as well as two bedroom family suites, additional beds and sofa beds and ground floor accommodation for those with limited mobility.

All of the bedrooms offer comfortable beds with crisp white bed linen, along with fluffy white towels and complimentary toiletries. The bathrooms at Ayan Court have all been renovated to a high standard, with 30 bathrooms, many featuring walk in showers, free standing roll top baths and double basins. The house has been designed with 21st century living in mind, with vast boilers to ensure plentiful hot water and cosy warm heating, along with logs for the working fireplaces in the Great Hall, Library and Bar to ensure your utmost comfort throughout your stay.

The beautiful gardens immediately surrounding the house total over 5.5 acres, and are perfect for summer drinks receptions, BBQs and photo opportunities, with terraces, lawns, beautiful flower beds and a croquet lawn, along with a kids' play area and a tennis court to help keep everyone entertained. The Ayan Estate extends to over 5,000 acres of rolling Devon countryside, with wonderful walks from your doorstep with idyllic views and beautiful scenery, and some super country pubs!

Ayan Court is not only a luxury country house, but an environmentally friendly one too, with sustainability at the heart of everything the owners do. Laundry services, lightbulbs and heating are all sourced as sustainably as possible, with all heating coming from renewable wood pellet boilers, a commitment to converting all 500+ lightbulbs to LEDs and one of the country's leading eco-friendly laundry companies servicing the property. Water at the property is sourced and filtered from the Estates' own well, all garden waste is composted and all refuse is recycled wherever possible, in addition to the promotion of wildlife and endemic species of trees and shrubs in the grounds, in particular bees with 4 hives in the estate.

Events at Ayan Court offer complete flexibility, so whether you want to be completely hands on or leave all the planning to the professionals, you will find a dedicated team who can answer any questions you may have and help you in sourcing any additional services you may need. Prices here include 5-7 hrs of an event planner, but you can engage the team to do as little or as much as you need.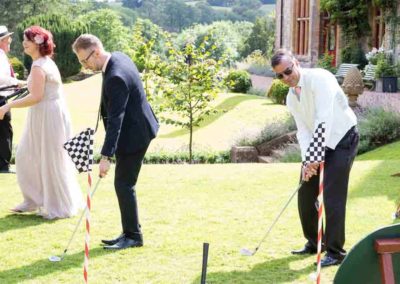 There are several Event Planners who work with Ayan Court so if you require that extra assistance to arrange every last detail and liaise with suppliers for you, you can agree a fee direct with them and they will ensure everything runs like clockwork during your stay without you having to lift a finger.

There are no hidden charges at Ayan Court, so if you wish to bring your own drinks there is no corkage charge of fee for using glassware, and there are no charges should you wish to source your own caterers. The house is licenced so if you would prefer a cash bar for your event this can of course be arranged, or if you want to bring your own drinks but don't want the hassle of collecting and washing glasses we can arrange for staff to attend to this.

The house is let on a self-catered basis, but many guests choose to arrange staff during their stay, from full butler service to housekeepers, kitchen helpers to wash the dishes and bar staff to make cocktails. Sometimes the smallest of touches can make the biggest difference to your stay, and not having to worry about washing up or tidying up the morning after the night before can make your stay far more enjoyable, and don't cost the earth. Please let us know if there is anything we can arrange to help make your stay perfect.