GROUND FLOOR

Entrance Hall

Buck Hall
A stunning baronial hall that forms the heart of the house, with spectacular triple height ceiling and a vast fireplace. Can seat up to 150 on long tables or theatre style, or 120 people on round tables, or can be configured as a lounge space.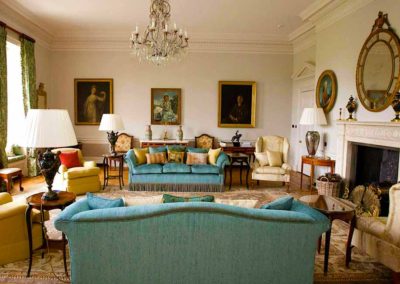 Drawing Room
This elegant room is flooded with natural light and offers plentiful comfortable seating, and opens directly onto the terrace and lawns, making the perfect setting for drinks receptions.
Morning Room
A spacious split level room, offering the perfect place to relax, with sumptuous sofas, tables and chairs and a huge flat screen TV.

Dining Room
The beautiful wood panelled dining room is normally set up for dining with a solid oak table seating 18 people, however it can seat up to 70 guests on round tables or 100 theatre style. There are beautiful views and a stunning ceiling.

Library
A wonderfully light and airy room with a desk and comfortable seating, along with a collection of books. Can be configured as a meeting or dining space for 12 people.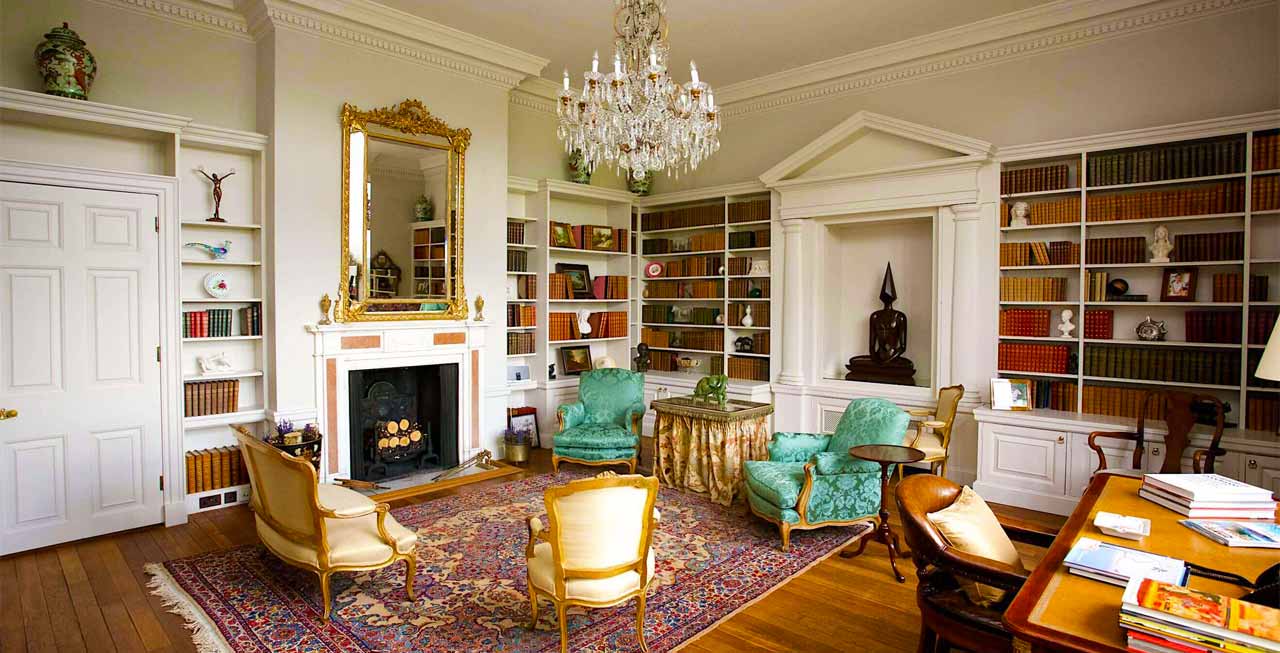 Billiards Room
Offers a Billiards table and is a great place to relax with a post-dinner drink.

Family Room
This room is tucked away, and offers a relaxed space with its own kitchenette and table and chairs.

Professional Caterer's Kitchen
A fully equipped professional caterer's kitchen is available for your preferred caterer's use only (guests do not have access).

Downstairs Cloakrooms

BARONIAL COURT BEDROOMS

All Baronial Court bedrooms include super king or king sized beds, high speed Wi-Fi, television, telephone, luxury toiletries, Nespresso machines and kettles, Baronial-embossed towels, robes and slippers.
There are currently 15 ensuite bedrooms. However, following an extensive renovation of the North Wing due to be completed by April 2018 there will be 22 ensuite bedrooms. – 18 fixed double rooms with ensuite bathrooms, 4 twin or double rooms with ensuite bathrooms, and 2 single rooms that share a bathroom.

Premium Bedrooms:
Bedroom One: Diamond
The master bedroom has beautiful views of the South Downs from all the windows, and guests have access to a large balcony with table and chairs.
It has a king-size double bedroom, and a luxury en-suite bathroom with a mosaic bath, and a dressing room.
Bedroom Two: Crystal
This bedroom has beautiful views, a large dressing room and an en-suite bathroom.
Bedroom Three: Pearl
Luxury ensuite with rural views to one side, and the courtyard to the other. It is equipped with a bath, and a shower over the bath.
Bedroom Four: White Sapphire
Luxury ensuite with windows on two sides. The room has views of the outdoor pool, Baronial Heritage and the South Downs. The bathroom is equipped with a bath only.
Bedroom Five: Golden Topaz
Wood panelled room with a magnificent four poster bed and views to Baronial Heritage. It has an ensuite bathroom with a bath only.
Bedroom Six: Tourmaline
A luxurious suite with a double bedroom, monsoon shower room, sitting room with a sofa bed and kitchenette. Suitable for use as a family suite. Views of the South Downs.
Luxury Bedrooms:

Bedroom Seven: Aquamarine
Double room with ensuite bathroom with accessible ensuite facilities for guests with limited mobility. Views over the courtyard.
Bedroom Eight: Star Ruby
Beautifully decorated bedroom with views over the front lawns and the South Downs. A pretty ensuite bathroom with a bath only.
Bedroom Nine: Green Jade
Luxury bedroom with views over to the front lawns and the South Downs beyond. The ensuite bathroom, which is neatly disguised as a cupboard door, has a bath only.
Bedroom Ten: Amber
Double room with views over the courtyard. Walk in shower and separate bath.
Bedroom Eleven: Obsidian
Situated at the top of the West Wing, this ensuite room has views of the South Downs and Baronial Heritage. Newly refurbished bathroom with a roll top bath and a walk in monsoon shower.
Deluxe Bedrooms:
Bedroom Twelve: Amethyst
Double room with views to the courtyard. Newly refurbished bathroom with a walk in monsoon shower.
Bedroom Thirteen: Lapis Lazuli
Double room with views over the courtyard. Newly refurbished bathroom with a walk in monsoon shower.
Bedroom Fourteen: Tiger's Eye
Located on the West Wing with views over the lake and Baronial Heritage beyond, this double bedroom has access to a newly refurbished bathroom across the corridor with a magnificent walk in monsoon shower.
Bedroom Fifteen: Ammonite
Cosy double bedroom located on the West Wing with a newly refurbished ensuite bathroom with a walk in monsoon shower.
OUTSIDE
The grounds immediately surrounding Baronial Court total over 100 acres and offer complete privacy, with beautiful formal landscaped gardens with a fountain and water features, manicured lawns, terraces, a private lake, Capability Brown parkland and woodland, along with a croquet lawn, tennis court and the outdoor swimming pool. The gardens are beautifully maintained and are a superb setting for garden parties and drinks receptions, and offer space for a large marquee of up to 400 guests for larger celebrations, with far reaching rural views towards the South Downs National Park.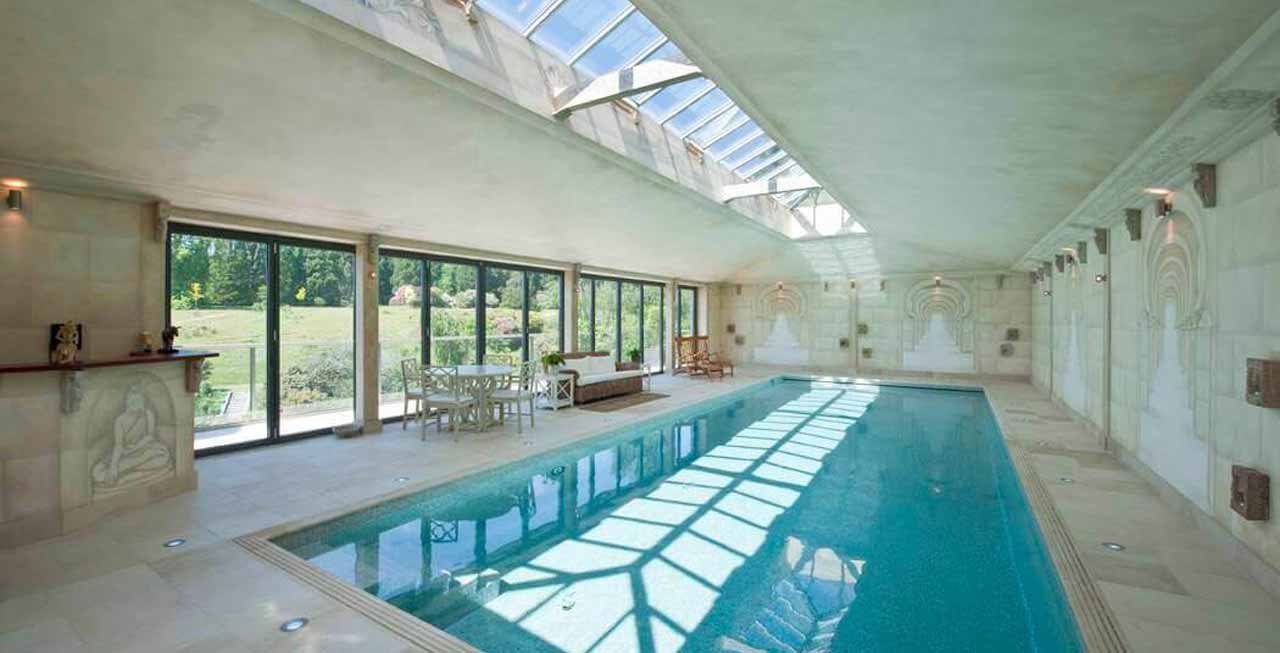 The Baronial estate extends to 16,500 acres and offers numerous recreation opportunities, with golf, polo, clay pigeon shooting, fly fishing and off road driving all available within the estate. The estate also includes the famous Cowdray Ruins, along with paddocks, woodland, lakes, rivers, forests, heath, parkland, agricultural buildings and farmland, in addition to the Cowdray Park Golf Club and Cowdray Park Polo Club.

The superb leisure facilities include a large indoor pool with bi-fold doors, a relaxation area and a lovely glass atrium roof, an additional outdoor swimming pool with a pool house, sun terrace and loungers, a tennis court, croquet lawn, Billiards Room with a full size snooker table and a private ten pin bowling alley with electronic scoring system.

There are also several cottages within the wider estate:

The Golf Lodge has 5 ensuite doubles, one suite with a double bedroom, sitting room and bathroom, and a second suite with 1 double and 1 twin bedroom and two bathrooms.

The cottages combined total 3 doubles, 1 twin/double, 2 twins and one single bedroom, all with ensuite or private bathrooms.

There is also a lovely hotel very close by with 39 ensuite bedrooms if additional accommodation is required.