Cedar Suite
A self-contained suite with its own bar, rest rooms and a large function room, which can be divided in two equal sized rooms if required. Large mirrors and floor to ceiling windows flood the room with natural light, and provide direct access to its own private outdoor area, the Cedar Lawn, complete with a canopy and al fresco dining furniture, ideal for summer soirees and receptions.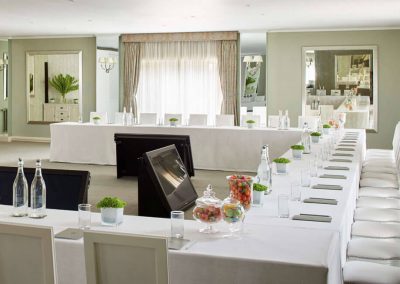 Theatre: 150
Boardroom: 40
U-Shape: 50
Classroom: 60
Cabaret: 70
Buffet: 120
Dinner: 120

Cedar 1 or 2:
Theatre: 50
Boardroom: 25
U-Shape: 25
Classroom: 25
Cabaret: 25
Buffet: 60
Dinner: 50
Oaks Suite
The Oaks Suite is another lovely bright and airy suite overlooking the front of the hotel, with two rooms than can be used for meetings, private dinners or training sessions, or combined for large events such as conferences or evening celebrations.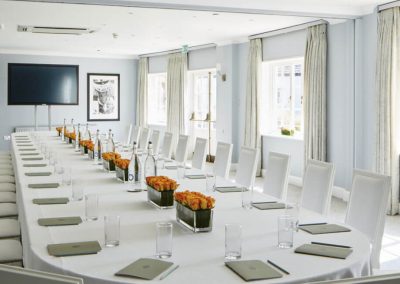 Theatre: 85
Boardroom: 30
U-Shape: 30
Classroom: 30
Cabaret: 40
Buffet: 70
Dinner: n/a

Oaks 1 or 2:
Theatre: 30
Boardroom: 16
U-Shape: 15
Classroom: 14
Cabaret: 15
Buffet: 30
Dinner: n/a
Lennox
The Lennox Suite is uniquely decorated in the style of a library, creating a more traditional, intimate feel. Often used for private dining, receptions and press conferences.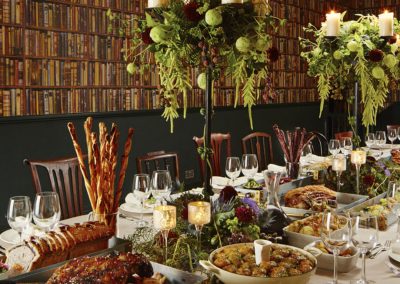 Theatre: 70
Boardroom: 30
U-Shape: 20
Classroom: 16
Cabaret: 30
Buffet: 55
Dinner: 55
Syndicate Rooms
There are three further syndicate rooms, Cork, Chestnut and Cherry, located near to the Cedar suite they can each seat 15 theatre style or 10 boardroom.