Tarn Castle is a stunning Listed Grade A Highland Castle, located on the southern shore of Loch Ness, just five miles from Inverness yet worlds apart. The Castle is set in a 500 acre private estate, with beautiful gardens, woodland and a broad lawn gently sloping down to the Loch itself. As a guest of Tarn Castle, you will discover a world of total tranquillity and privacy, with only the highest quality interiors and comfort, creating a magical environment whatever the occasion.
The Castle was first recorded in 1626 as a mansion house, as a classic example of Scottish Baronial architecture. Its fascinating history is interwoven with Scotland's national history; witnessing the passing of General Wade's troops, and playing an important part in the life of the famous artist GF Watts. In the Victorian era, Tarn's unique location as a sporting estate beside Loch Ness made it a popular choice for house parties and holidays for the aristocrats of the time.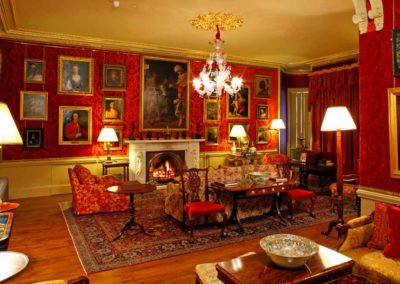 The opulent furnishings and quintessentially Scottish atmosphere remains to this day, albeit with carefully restored, pristine interiors and modern amenities to satisfy even the most discerning of guests. The Castle interiors are nothing short of magnificent, yet exude a sense of warmth and hospitality you can only find in a family home. Tarn Castle is a place to relax in the company of family and friends, to enjoy good conversation or to become immersed in a book by the roaring log fire. Experience the very best in traditional, time-honoured Scottish hospitality whether you stay for a night, a week, or a month.
Tarn Castle offers wonderful period features, with particular attention paid to preserving the heritage of the property during its extensive restoration. The results are stunning; a luxurious home fit for the 21st century traveller, yet with modern technologies carefully concealed to maintain the integrity of the Castle and provide a truly authentic experience for its guests.

The magnificent living rooms are beautifully decorated and elegantly furnished in traditional style, with opulent chandeliers and stunning fire places throughout. Tarn Castle offers outstanding levels of both comfort and quality, striking that elusive balance of majesty and intimacy to create a homely and inviting atmosphere to relax and enchant you. From the majesty of the Red Drawing Room to the elegance of the Dining Hall; from the imposing Laird's Room to the merriment of the Billiards Room; Tarn Castle has a room for every occasion.
The fifteen bedrooms at Tarn Castle are individually styled and furnished, from sumptuous fabrics and decadent chandeliers to cosy fire places and traditional furnishings. Many of the bedrooms offer en-suite or private bathrooms, designed in traditional style but with modern convenience and high quality fixtures and fittings. Some of the bedrooms can interconnect, which is great for families, and some come with their own living rooms ideal for those looking for a little more privacy. All of the bedrooms have high quality mattresses to ensure a restful experience, with only the finest cotton sheets, thick fluffy towels and luxury toiletries.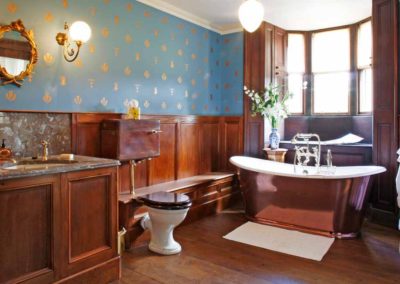 It's not just the interiors of Tarn Castle that will take your breath away; the grounds are special too. Formal gardens, lawns, terraces and woodlands have been lovingly restored to their former glory, with beautiful walks and even a Marina to explore. There are fabulous historic greenhouses, magnificent landscaped parkland, and even a tree house, with enchanting views over Loch Ness glimpsed through the trees. From the Castle, a sweeping lawn extends down to the shore of the Loch, providing a beautiful setting for outdoor events and celebrations, or for relaxing with a cocktail from the sunny terrace overlooking the beauty and grandeur of the Loch.
The 500 acre estate is a haven for wildlife and offers many opportunities for outdoor activities, such as canoeing, mountain biking, climbing, shooting, archery and walking. If the grounds aren't enough, you have on your doorstep some of the most beautiful scenery to be found in the UK, with endless opportunities for outdoor enthusiasts. Those staying at Tarn Castle benefit from the expertise of countless professionals who can guide you, teach you and coach you about a vast array of activities and interests; so if there is something you have always wanted to try or learn then why not try it in the splendour of the estate.

Our team of chefs, housekeepers, facilitators and other staff are on hand to ensure that you experience the very best of Scottish hospitality. Unlike a hotel, your experience can be tailored exactly to your requirements; there are no rules or regulations and no set times for anything.

Within the grounds of the Tarn Estate is a collection of charming holiday cottages, sleeping from 4 to 6 guests each up to a maximum of 22 people in total. These beautiful holiday cottages are the perfect addition to extend the accommodation at the Castle, whether for overspill from the main party or for staff. They are beautifully restored with the same standards as the Castle itself, although on a rather smaller scale!

Tarn Castle is the perfect destination for your exclusive private occasion, when only something truly special will do. Whether you are looking to organise a glamorous birthday celebration, a magical wedding, an amazing product launch or are simply looking to get away from it all; stay at Tarn Castle and experience the freedom of an entire Castle and Estate in one of the world's most iconic locations.