GROUND FLOOR

Entrance Hall
Stunning entrance through vast oak doors onto a spectacular entrance hall adorned with knight's armour, medieval weapons and swords.

Guards Room
The spectacular Guards Room has triple height ceilings, two magnificent fireplaces, beautiful artwork and artefacts. This room can be arranged to seat up to 100 guests for wedding ceremonies or presentations, or 200 for drinks receptions. A fabulous double staircase leads off to the first floor with a galleried landing.

The Old Kitchen
Lovely room full of character with original bread ovens, brass cookware and medieval chandeliers. Can be used for banquets or dancing.

The Old Servants Hall
A spacious sitting room with leather sofas, a bar area and wood panelled walls.

Restrooms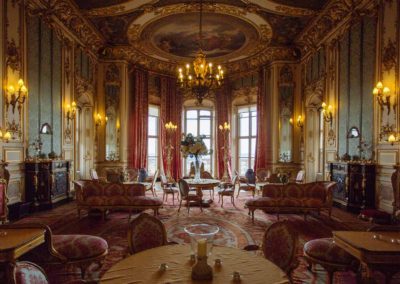 FIRST FLOOR
Ballroom
Floor-to-ceiling stained glass windows, beautiful artwork, ornate chandeliers and gothic archways, a lovely space for drinks receptions, weddings and presentations, this room can seat up to 120 guests theater style.
State Dining Room
Dramatic and opulent room with gothic architecture and regency style creating a splendid setting for a grand formal dinner. Two large open fireplaces, arched marble recesses with large mirrors and candelabra adorn the sideboards, the State Dining Room's traditional long table can seat 30 guests, or up to 120 guests can be seated with round banqueting tables.

Elizabeth Drawing Room
This lavish room includes stunning artwork, magnificent fireplaces, gold gilt detailing, frescoed ceilings, sumptuous sofas, armchairs and ottomans, and beautiful views.

The Red Gallery
Includes a wonderful collection of fine art including the world renowned Hans Holbein painting of King Henry VIII, and works by Reynolds and Gainsborough, and an immaculately preserved bed made for Queen Anne, with beautiful original silks and embroidery.

The Regents Gallery
The Regents Gallery is normally only made available with a supplementary fee. One of James Wyatt's masterpieces, this room spans 131 feet and achieves a level of opulence normally reserved for palaces. A series of beautiful Gobelins tapestries hang here, created for King Louis XIV of France and purchased by the 5th Duke of Rutland in 1814. The remaining four tapestries in the series are kept at Buckingham Palace. There are stunning far reaching views and seating spaces for relaxation.

The Library
Beautiful room housing a vast collection of books. There is a lovely fireplace, plenty of comfortable seating, with a drinks cabinet at guests' disposal and double doors to the Billiards Room. The Billiards Room Wonderfully atmospheric room, with an early 20th century billiard table, seating and a fireplace.

The Shoot Room
A beautiful dining room decorated in rich red tones with beautiful views. Seats up to 20 guests.

The Shoot Lounge
A beautifully decorated sitting room leading off the Shoot Room, with a large fireplace including an original bread oven, comfortable seating and beautiful views.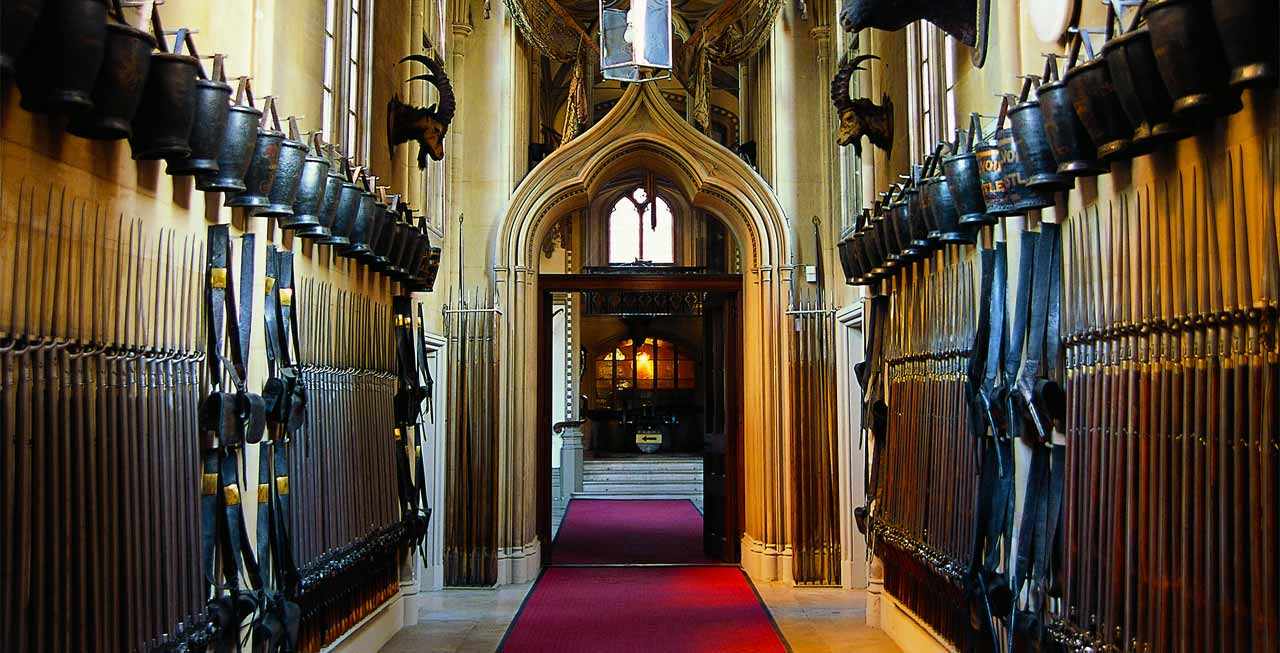 BEDROOMS

The Brown Bedroom
Double with adjoining single room and private bathroom en-suite. This bedroom contains a splendid bed and other furniture designed by William Kent. It was decorated by David Hicks in the 1960's and is a great example of his dramatic style of decorating.

The Duchess Bedroom
Double with private bathroom en-suite. This bedroom belonged to Frances, 10th Duchess of Rutland. The views from the window across the valley are spectacular and on a clear day you can see a tower on the horizon which is Croxton Kerrial, five miles away.

The Pink Bedroom
Double with private bathroom. This bedroom has a very feminine feel and was the first bedroom in which the present Duchess stayed as Miss Emma Watkins. It has a wonderful set of Leonard pastels on the wall.

The Dukes Room
Double with private bathroom. This was the 10th Duke of Rutland's bedroom and has its bathroom across the corridor.

Stairs leading up to:

Staunton Tower 1st Floor – Thoroton and Castle Guard
Twin room and double room with private bathroom For the fit and agile! The tower is named after the Staunton family who live in the Vale to this day and owe the family "Castle Guard Duty" which dates from the 12th century, when they had to supply troops on demand by the Manners family.

Staunton Tower 2nd Floor – Nurse Webb and Nanny Griffiths
Twin room and double room with private bathrooms. These rooms were only converted back to bedrooms in 2010 and have by far the best views from the Castle. Back down the stairs to…

The Tapestry Room
Double room with private bathroom. It is very obvious how this room gets its name and the beautiful tapestries that adorn the walls were made at the famous Mortlake factory established by Charles II. Those that have seen the The Young Victoria film (2009) may recognise the Tapestry Room as it was used in the film as Queen Victoria's bedroom at Buckingham Palace.

The Wellington Bedroom
Double with private bathroom en-suite. An extremely grand double bedroom with bathroom, which as the name suggests, name after the Duke of Wellington, who was a regular visitor. It has magnificent Chinese wallpaper, for which Belvoir is famous. When the Brighton Pavilion was re-decorated, they actually came and copied our wallpapers.

The Chinese Bedroom
Double with private bathroom en-suite. This bedroom takes its name from the hand painted silk wall coverings woven in China in the 18th century, brought from the East by the 5th Duchess. The domed George I bed is lavishly upholstered in green damask and the wardrobe doors are particularly striking in a typical Chinese lacquer work design.

The Orient Bedroom
Double with private bathroom en-suite. This bedroom also has walls covered in Chinese hand painted silk from the 18th century and each side of the mantelpiece are two Louis XIV boule cabinets.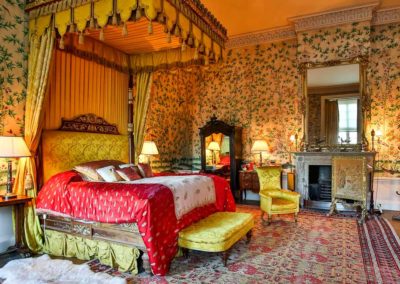 The Kings Rooms
Double with private bathroom en-suite. This suite of rooms comprises the sitting room, bedroom and dressing room. It is so called as these rooms were used by any visiting member of the Royal family, most notably George IV, Queen Victoria and Edward VII. In the corner a door leads to the bathroom, where the wall in the narrow passage was recessed in the early 1900's, presumably to allow freer access for the portly and very broad Edward II!
OUTSIDE
The grounds of Belvoir Castle extend to over 16,000 acres affording outstanding privacy and there are beautiful rural views as far as the eye can see, with lovely walks along nature trails and pathways through the grounds. There are beautiful formal gardens laid out in a series of terraces, dotted with classical statues, Italian sculptures and water features. The beautiful Rose Garden and Duchess's garden have been beautifully restored and maintained, laid out around a central fountain, with further sculptures created by Caius Cibber, sculptor to Charles II.

The grounds also include a lake, woodland and meadows to explore, all in complete privacy and tranquillity. There is also shooting available here in season, and a plethora of activities available to guests from firing of the canon, horse drawn carriage rides, spectacular firework displays and quad biking. There is also an outdoor swimming pool and tennis court for guests' use, along with equestrian facilities.

The grounds have been host to many large scale events including the CLA Game Fair, fireworks championships and triathlons to name a few.

There is a permanent marquee structure by the lake side which can seat up to 400 guests with the option to extent to up to 800 guests for larger events.