Belvoir Castle has been the ancestral home of the Duke and Duchess of Rutland since 1508, and remains as such today as the family home of the 11th Duke of Rutland, his wife and five children. Belvoir Castle has existed since Norman times, although the present castle was constructed in 1816 after a major fire destroyed the previous castle, under the supervision of the noted architect James Wyatt and the then Duchess of Rutland.

Belvoir Castle houses many noticeable pieces of art including works by Holbein, Gainsborough, Reynolds and Poussin, and an enviable collection of antiques and artefacts. From the military splendour of the Guard Room with a stunning collection of suits of armour and historic weaponry, to the majesty of the State Dining Room, you will find elegance and opulence in abundance.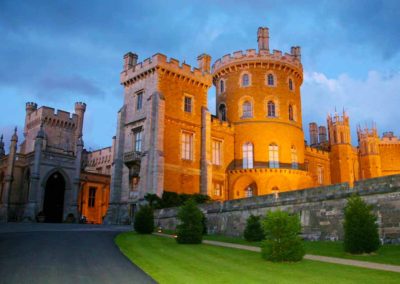 The approach to the Castle winds through beautiful Lincolnshire countryside, and even at a distance the sheer majesty of the Castle is plain to see. Situated high on an escarpment overlooking the surrounding Vale of Belvoir, this magnificent Castle stands true to its name. The name Belvoir means "beautiful view", and dates back to the Norman times when the French invaders brought many French names with them. The name was difficult for the local Anglo-Saxon residents to pronounce, so they began calling Belvoir Castle "Beaver Castle", a name that persists to this day.
Mighty wooden doors open into the spectacular entrance hall and Guards Room, complete with suits of armour, medieval weapons and sword displays, the history and heritage of the Castle surrounds you. A sweeping double staircase leads to the first floor, opening out onto a beautiful Ballroom at the top of the stairs. From here there is access to the stunning State Rooms, which are amongst the most impressive and opulent rooms to be found anywhere outside of the Queen's own residences. The Elizabeth Drawing Room is simply breath-taking, with exquisite furnishings, gold gilt frescoed ceilings and the most sublime views. This scale of this room is vast, designed for visiting royalty and the attention to detail and quality is evident throughout.

The State Dining Room is equally as impressive, with a nod to Roman architecture with beautiful arches and lavish gold detailing throughout. This room can seat up to 120 guests for formal dining, whilst up to 800 guests can be seated at the lakeside marquee in the grounds. For more intimate dining there is also the Shoot Room, another beautifully furnished room perfect for more relaxed dining for up to 20 guests with an adjoining lounge space, or for a unique and authentic experience The Old Kitchen on the ground floor can be set up for a medieval banquet, full of character and amazing original features.

The Red Gallery houses an enviable collection of fine art including the world renowned Hans Holbein painting of King Henry VIII, and works by Reynolds and Gainsborough, and an immaculately preserved bed made for Queen Anne, with beautiful original silks and embroidery.

The Regents Gallery is truly one of the most spectacular rooms to be found in the UK, and is normally only made available with a supplementary fee. One of James Wyatt's masterpieces, this room spans 131 feet and achieves a level of opulence normally reserved for palaces. A series of beautiful Gobelins tapestries hang here, created for King Louis XIV of France and purchased by the 5th Duke of Rutland in 1814. The remaining four tapestries in the series are kept at Buckingham Palace.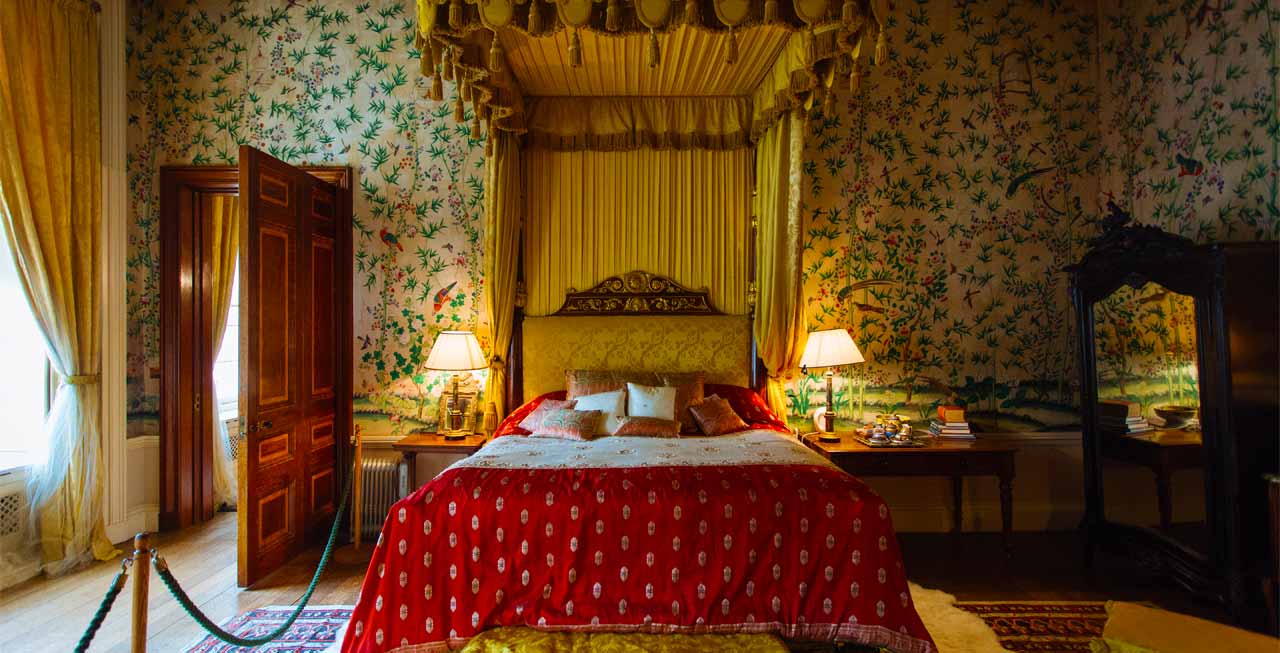 Yet there are also cosy rooms too should you wish for a more intimate space, with a beautiful sitting room, the library with a private drinks cabinet, billiards room, and two further drawing rooms, all beautifully furnished with a more relaxed feel, and cosy fireplaces to curl up with a good book and a glass of vintage port.

All of the 13 bedrooms are very spacious and beautifully furnished, with luxurious bathroom suites, all individually styled but to the same beautiful specification. The bedrooms each offer a unique glimpse of the Castle's heritage, with the splendid King's Rooms so called as this suite of rooms was used by the Royal family when they visited, and the stunning hand painted silk walls of the Chinese Bedroom. The Castle does feel very welcoming and homely despite the grandeur, there are lovely artefacts and antiques throughout, and a real sense of history. Every bedroom has its own tea/coffee making facilities, a hospitality tray with a half bottle of champagne and bottled water, hairdryer, bathrobes and slippers.

The grounds of Belvoir Castle extend to over 16,000 acres affording outstanding privacy and there are beautiful rural views as far as the eye can see, with lovely walks along nature trails and pathways through the grounds. There are beautiful formal gardens laid out in a series of terraces, dotted with classical statues, Italian sculptures and water features. The beautiful Rose Garden and Duchess's garden have been beautifully restored and maintained, laid out around a central fountain, with further sculptures created by Caius Cibber, sculptor to Charles II. The grounds also include a lake, woodland and meadows to explore, all in complete privacy and tranquillity. There is also shooting available here in season, and a plethora of activities available to guests from firing of the canon, horse drawn carriage rides, spectacular firework displays and quad biking. There is also an outdoor swimming pool and tennis court for guests' use, along with equestrian facilities.

Belvoir Castle is truly one of the most special and luxurious properties available for exclusive use rental, with superb cuisine, a fabulous wine cellar and butler service included. All stays here are entirely bespoke, so we can create your perfect stay according to your individual requirements, tastes and preferences, and we guarantee all your expectations will be exceeded. Belvoir Castle is a world-class venue with interiors worthy of royalty, and to stay at this property is to experience the very best in high society living.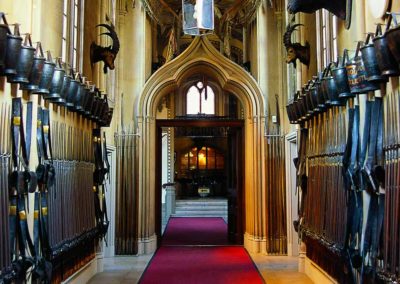 The Castle makes a wonderful venue for filming and photoshoots, and has previously featured in films, television series and in photographic work, notably The Young Victoria. The Castle also holds a wedding licence, with capacity for up to 120 guests for the ceremony and wedding breakfast in the State Dining Room, or the reception can be held in the Lakeside Marquee for up to 400 guests. There are also options to extend this to seat up to 800 guests.
Please contact us today for further information and a bespoke quotation.