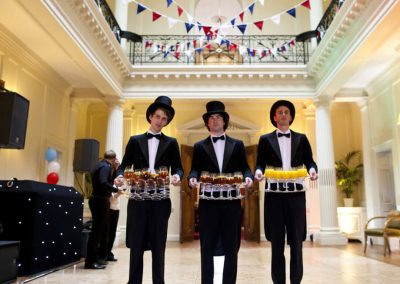 Centre Hall
One of Sequoia Court's most iconic spaces, the Centre Hall guarantees to make an extraordinary impression. The stunning Italianate style dome provides a cinematic backdrop for your Champagne reception, meeting or lunch.
Theatre 120
Cabaret 42
Boardroom 20
Dining 60
Reception 150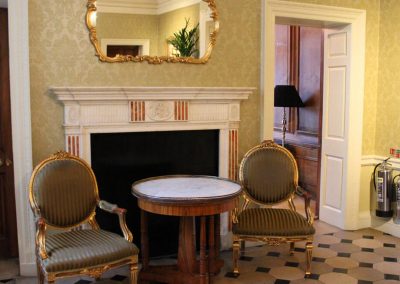 Drawing Room & Boudoir
Our elegantly decorated and furnished Drawing Room and adjoining Boudoir is one of the family's personal favourites. Open the Drawing Room doors and step outside onto the beautiful stone parterre to take in the breathtaking view across our South lawns and the beautiful Thames Valley.
DRAWING ROOM SUITABLE FOR:
Theatre 80
Cabaret 35
Boardroom 20
Dining 60
Reception 100




BOUDOIR SUITABLE FOR:
Theatre 50
Cabaret 28
Boardroom 12
Dining 40
Reception 50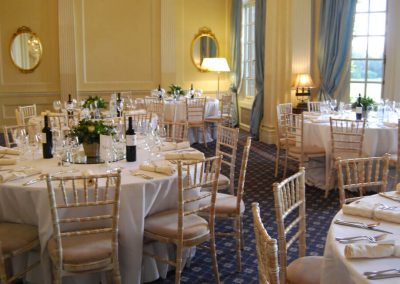 Dining Room
Overlooking our beautiful Dutch sunken garden, our Dining Room provides a versatile space for your event. With high, ornate ceilings and lots of beautiful natural light it provides the perfect backdrop for a dinner, board meeting, lunch or reception.
Theatre 80
Cabaret 35
Boardroom 20
Dining 60
Reception 100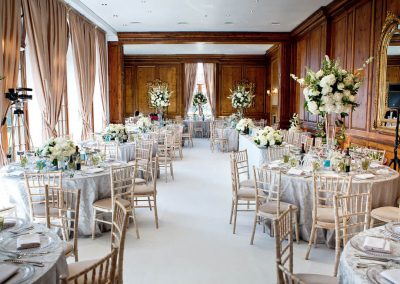 Ballroom
Perhaps our most striking space, complete with original wood panelling and beautiful sparkling cut crystal chandeliers. The Ballroom provides a large space for your conference, awards dinner or team building activity.
Theatre 180
Cabaret 70
Boardroom 60
Dining 150
Reception 200
The Florence Suite
Available as part of the exclusive use of the house, The Florence Suite comes complete with plasma TV, boardroom table, executive leather chairs and beautiful views across the Thames Valley giving you the perfect bright and airy room for your meeting.