Sequoia Court is an historic country Estate, dating back to 1166 under the ownership of the de Hedsor family. The House was originally designed for King George III and Queen Charlotte, who were entranced by the beautiful surrounding countryside overlooking the River Thames, yet affording easy access to London. The House has always been a place to enjoy life, see and be seen, with a long and illustrious guest list including Kings, Queens, Princes and Princesses, who would regularly frequent the house from nearby Windsor Castle.
The current house was completed in 1868, after the previous building was destroyed by fire, a pioneer of style at that time being modelled on an Italian Villa rather than the quintessential Georgian style prevalent in the 19th century. Queen Victoria was a regular visitor to the Sequoia Court Estate, fond of taking afternoon tea in the beautiful domed centre hall, captivated by the unique architecture and beautiful grounds.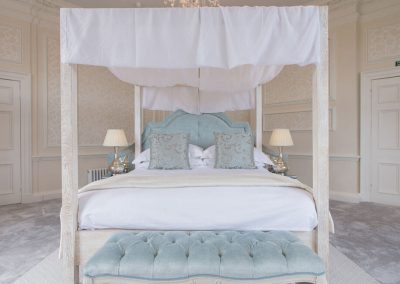 To this day Sequoia Court remains privately owned by the Shephard family, who painstakingly restored the property to its former glory, whilst ensuring guests benefit from more modern luxuries to complement the stunning original features throughout this stunning home. Sequoia Court opened its doors as a private event and wedding venue in 2008, with one single aim – to be an unforgettable place to meet, entertain or simply escape.
Today, Sequoia Court has an enviable reputation as one of the UK's most prestigious and exclusive venues, with a host of awards including Eventia's "Event Venue of the Year", Tatler's "No 1 Top Venue", and Vogue's "Dream Wedding Venue". Its secret lies in its ability to be the ultimate blank canvas, a haven of tranquility with endlessly versatile spaces, luxury in abundance and the utmost in privacy and discretion enables guests to create their perfect event in this most beautiful of settings.
Approached via a kilometre long driveway winding through beautiful parkland, Sequoia Court is nothing short of impressive. Set in a private estate of over 100 acres, it feels a million miles away from the hustle and bustle of city living, yet this haven of tranquility is just 45 minutes from central London, and close to several international airports and the national motorway network, making it an ideal location for anything from private parties to international product launches.
The idyllic setting, beautiful gardens and magnificent exterior create a vision of traditional high society living, a quintessentially English historic country home and estate, carefully preserved to offer a glimpse into a bygone era. Yet step inside and you realise Sequoia Court is anything but old fashioned and stuffy.
The interiors offer elegance and style in abundance, from the grandeur of the 150 year old wood panelling in the Ballroom to the unique domed Centre Hall with its dramatic galleried landing, each room offers a different character. The immaculate interiors having been lovingly restored, with beautiful period antique furnishings and original oil paintings combined with a touch of contemporary cool. All of the rooms at Sequoia Court offer beautiful views over the surrounding parkland and many open directly onto the grounds, creating an ideal setting for summer parties and drinks receptions on the terrace.
The bedrooms at Sequoia Court are no less impressive, and none more so than the lavish master bedroom bridal suite, one of the largest rooms of its kind in Europe, spanning the entire front of the house. The 10 guest bedrooms are all beautifully furnished with luxurious en-suite bathrooms, and only the highest quality linens and fixtures to ensure guests' utmost comfort.
Sequoia Court can be your very own stately home for as long as you desire, so whether you are looking for a spectacular celebration, an elegant country house wedding, a corporate away day or a private meeting, you can be sure of an unforgettable experience in truly inspirational surroundings.