Located across The Fish Hotel Stables, Farmhouse, Outhouse and the Coach House, the bedrooms offer a haven of rest and relaxation, with chic Scandi style décor.

All rooms feature:

King size or super king bed
Dressing table/desk
Flat screen smart TV
Nespresso coffee machine
En suite bathrooms
Luxury bathrobes
Temple Spa toiletries
Daily housekeeping service
Hairdryer
Free WiFi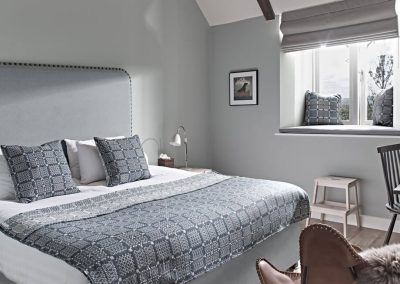 Medium Rooms

Medium rooms are lovely cosy rooms with soft colours and contemporary Scandi style. All the rooms feature an en-suite bathroom with shower over the bath.

There are 31 Medium Rooms, 11 of which can be arranged as twins.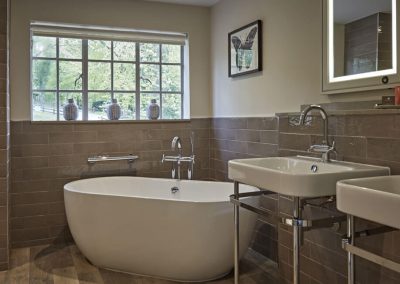 Medium Luxe Room

Medium Luxe Rooms are more spacious than Medium Rooms, located in the newly renovated Coach House they offer a similar Scandi style. The en-suite bathrooms either offer a separate shower and bath or a shower only.

There are 2 Medium Luxe Rooms, 2 of which can be arranged as twins.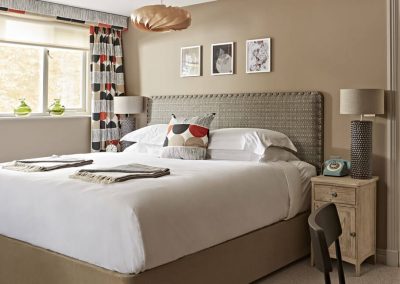 Terrace Room

Terrace Rooms are located in the Coach House, and come with all the same luxuries as a Medium Room but with a private terrace featuring spectacular views across the Vale of Evesham. They feature an en-suite shower room.

There are 2 Terrace Rooms, 1 of which can be arranged as twins.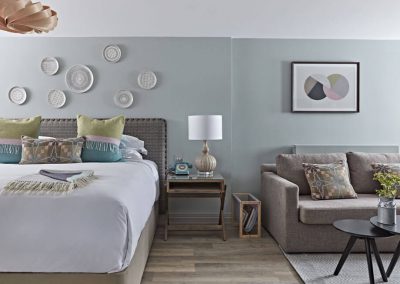 Veranda Room

Veranda Rooms are spacious ground floor rooms in the Coach House, complete with a seating area and a private outdoor terrace. Of the four, two feature large walk-in showers and two have shower over baths. The Veranda Rooms can interconnect, making them perfect for family getaways, and one room is dog friendly.

There are 4 Veranda Rooms, 4 of which can be arranged as twins.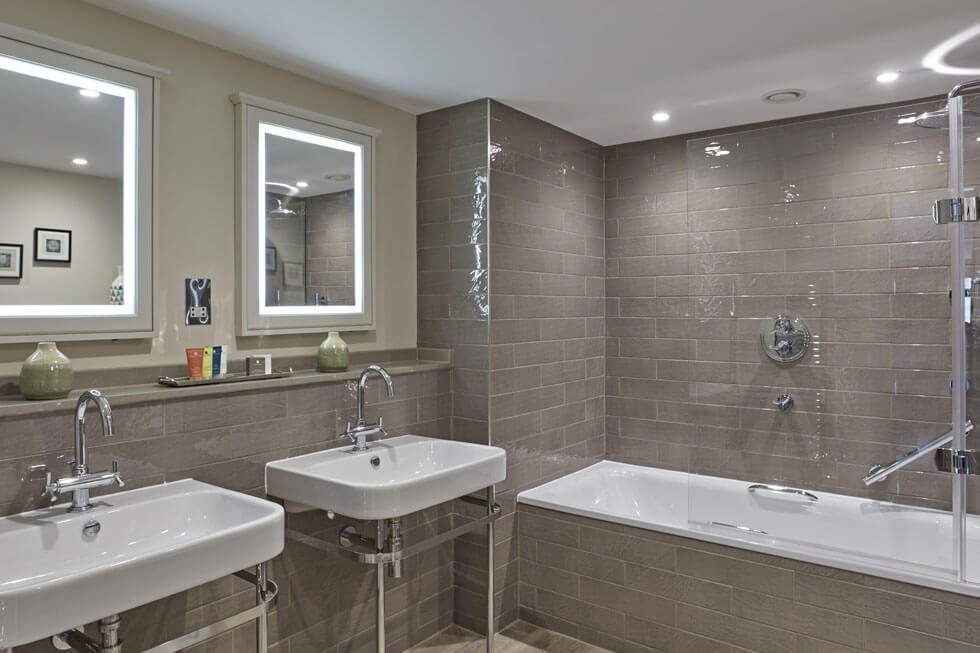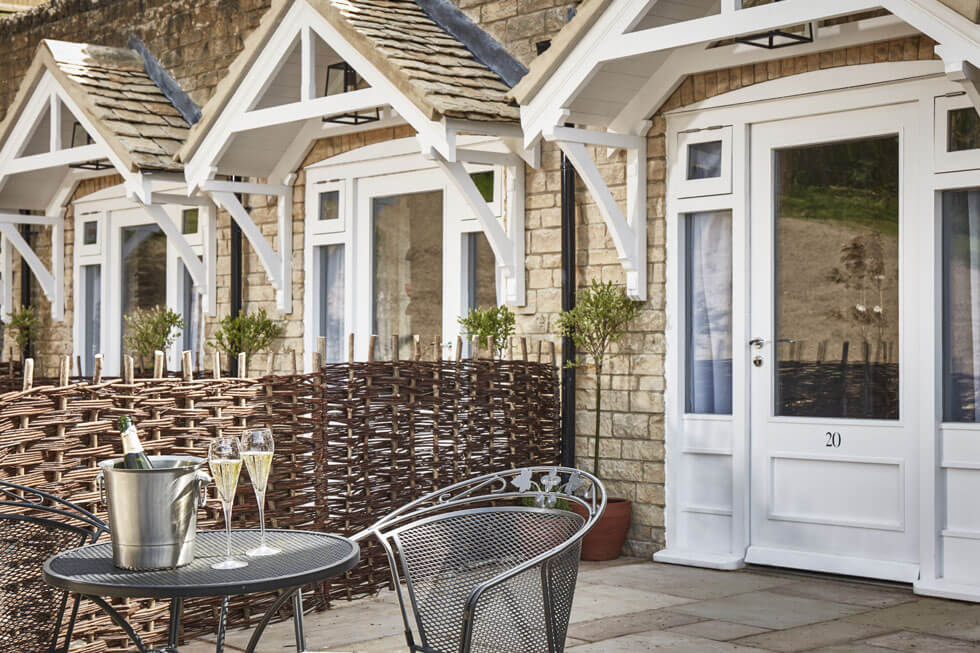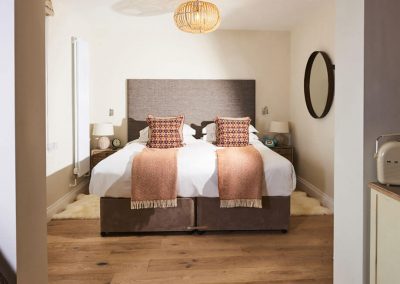 Small Suites

The Small Suites are located in the Outhouse, and offer a cosy bedroom with a king size bed and open plan lounge with sofa bed with lovely views, ideal for family stays of up to two adults and two children. There is a complimentary mini bar, Freeview TV and the en-suite bathrooms feature a shower only or shower over bath. One Small Suite is dog friendly.

There are 5 Small Suites, 3 of which can be arranged as twins, and one Small Suite has two bedrooms with double beds and a small private lounge.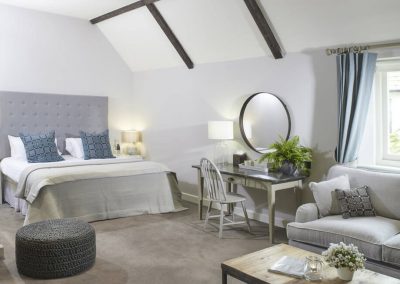 Big Suites

The Fish's six Big Suites are the hotel's largest bedrooms, complete with a super king bed and a separate living area with a sofa or sofa bed. All of the Big Suites can take a cot, Maudsley & Six-One-Seven have a private terrace each with a table and chairs, whilst Lancaster & Barnes-Wallis have wood-burning stoves with armchairs and footstools – just the thing for an evening in by the fire. Rooms 26 & 29 have feature bathrooms and are located in The Coach House. All have en-suite bathrooms with a shower and bath, and one room is dog friendly.

There are 6 Big Suites, 6 of which can be arranged as twins.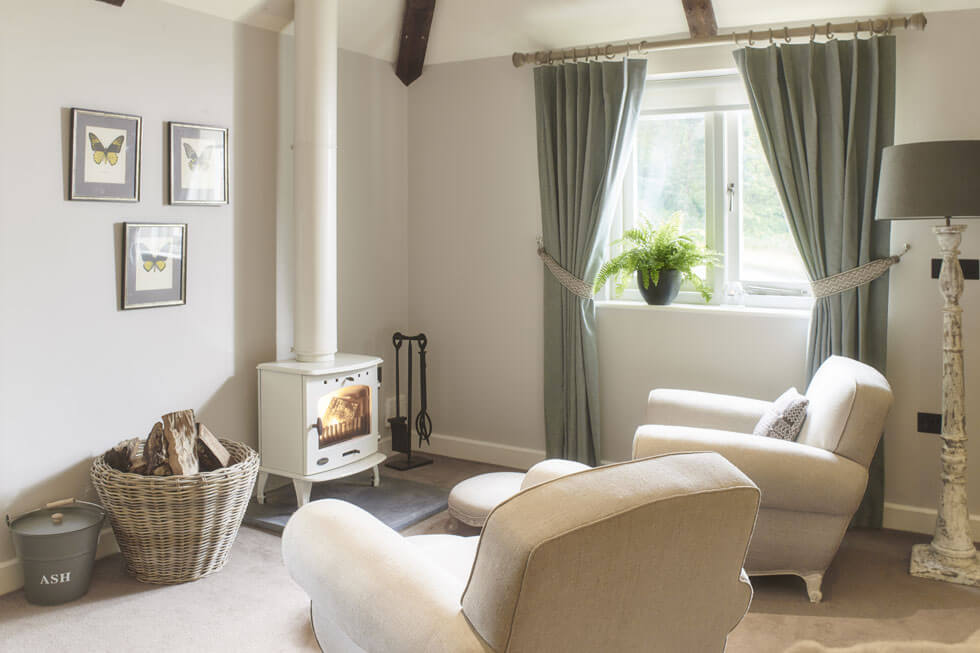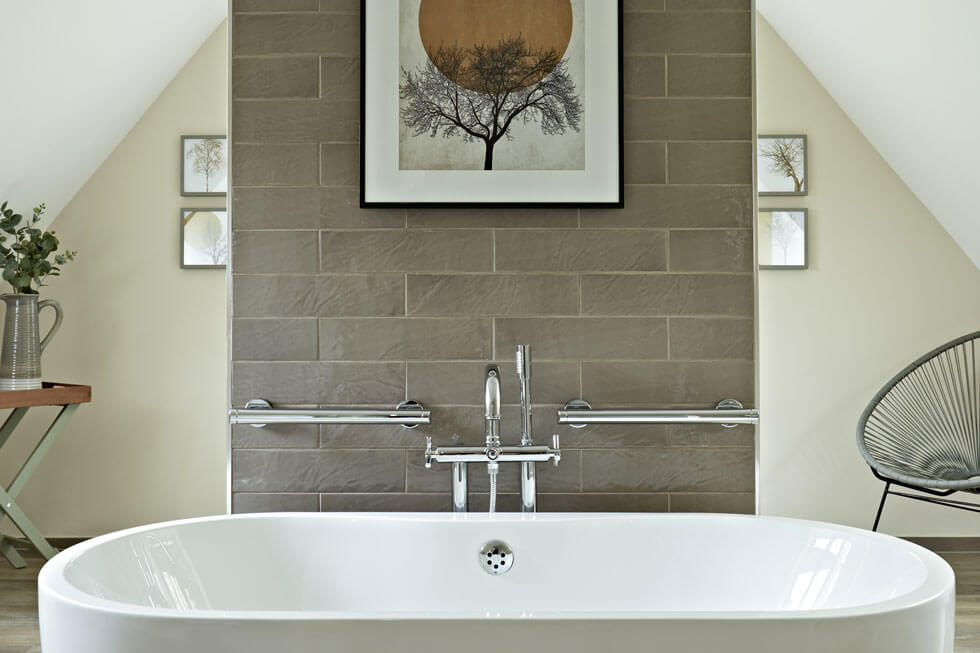 Huts

The beautiful quirky Huts are nestled in the woodland, boasting idyllic views luxury huts are the ultimate in countryside living. Suitable for all year round stays, each hut is cosy and comfortable, and makes for the perfect rustic, woodland retreat.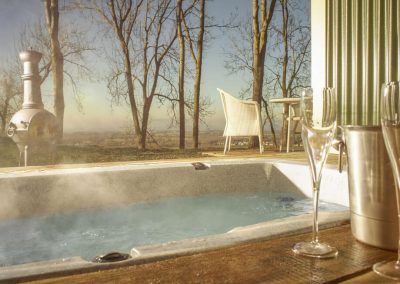 Hilly Huts

The charming Hilly Huts are bespoke hand crafted shepherd's huts, dotted along an illuminated woodland path just a short walk from the Lodge. All Hilly Huts feature a cosy bedroom with a double bed and an open plan lounge area with a sofa and wood burning stove, along with under floor heating to keep guests nice and cosy and an en-suite shower room. There is a complimentary mini bar, Nespresso coffee machine, and full coverage of the free WiFi. Outdoors, they have their own private decked area complete with a chiminea, boot box and its own private hot tub.

There are 5 Hilly Huts, all with fixed double beds.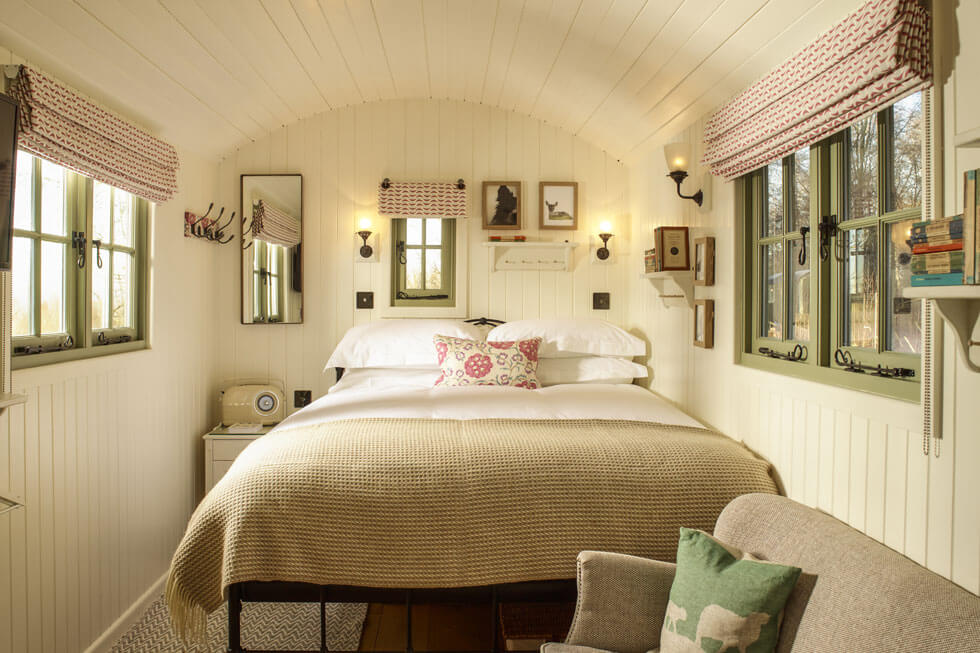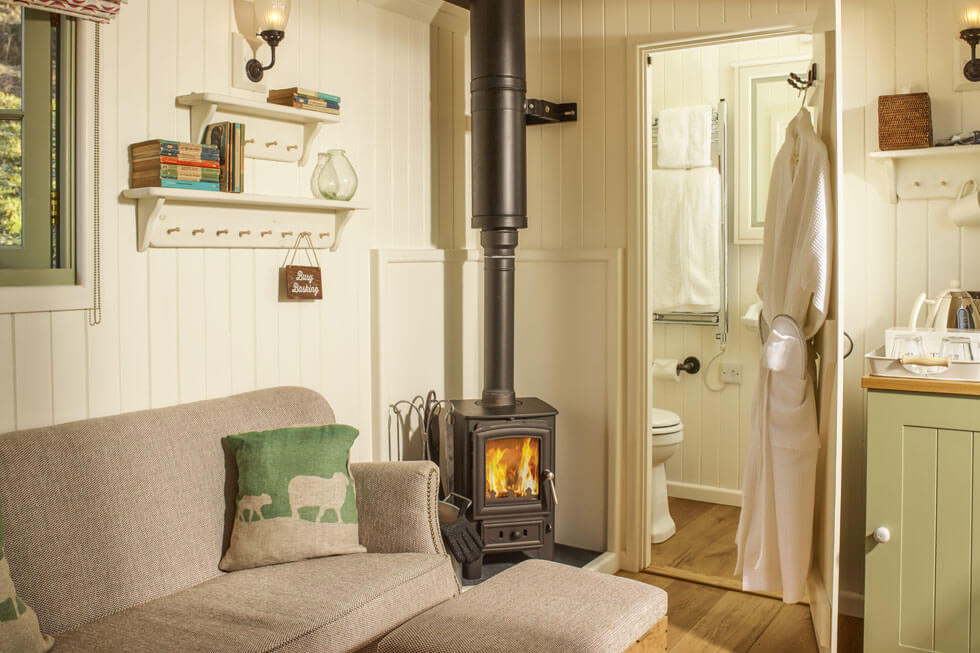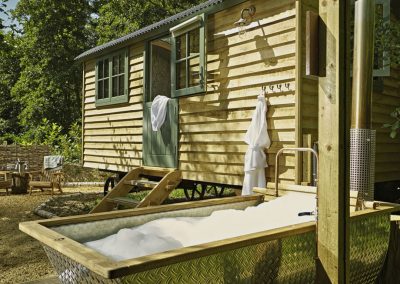 Hideaway Huts

Hideaway Huts are twice the size of Hilly Huts, in the same enchanting setting along a magical illuminated woodland path. The bedrooms feature king size beds and feature roll top baths with sky lights to lie back and gaze at the stars, whilst the separate lounge has an L-shaped sofa and a wood burner, along with under-floor heating throughout. There is an en suite bathroom with shower and the spacious outdoor decking area features a "Hikki" Bohemen heated outdoor bathtub for two along with a Chiminea and boot box.

There are 5 Hideaway Huts, all with fixed king size beds (including Boaty McBoatface).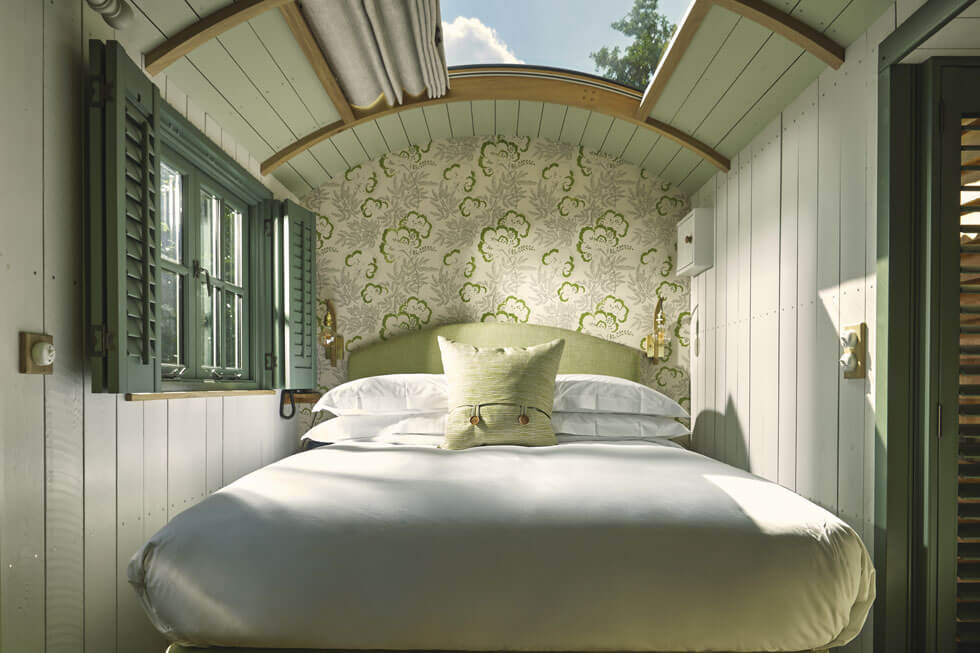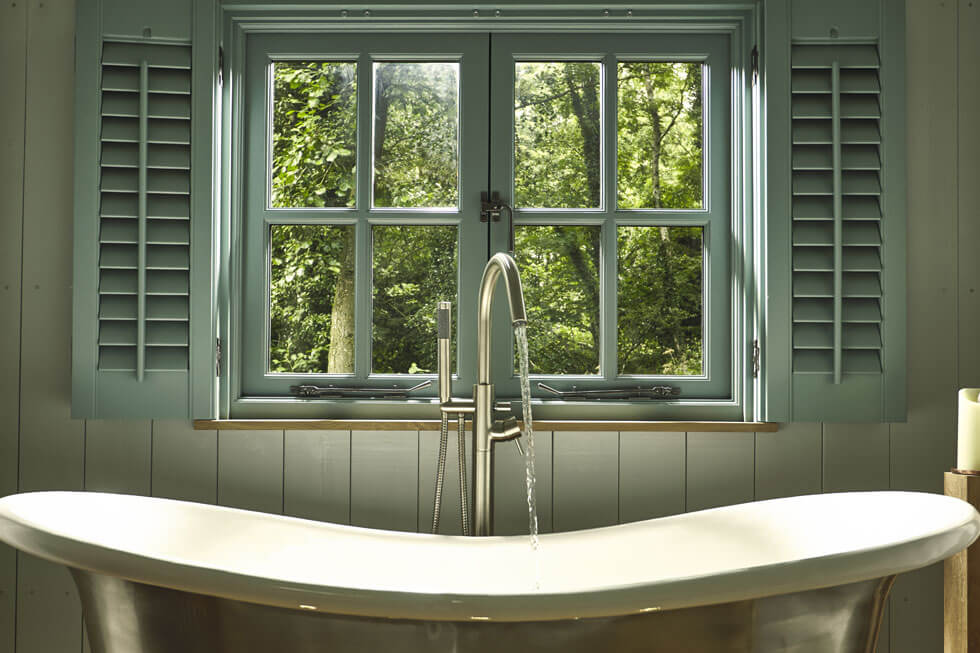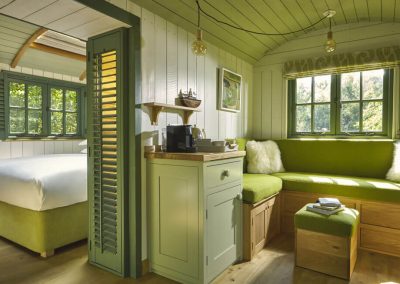 Boaty McBoatface

Boaty McBoatface (yes, you read right) has all of the features of our other Hideaway Huts but with a massive twist. Guest staying in Boaty can embark on their own nautical adventure. Boaty comes with its very own paddle boat for you to relax on whilst floating around your own private lake. Or how about popping across to your private island complete with decking and comfortable seating to enjoy a romantic evening (perfect for proposals, ahem!)?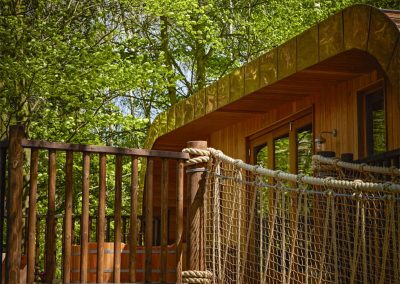 Tree Houses

The three spectacular treehouses are perched atop mighty oak trees, accessed by their own magical bridge they are enough to make the most cynical of adult's eyes glow with excitement. These amazing retreats offer 50 sq metres of space with underfloor heating, a king size main bedroom, open plan living area and a bunk room with two single beds. The en-suite bathrooms have a shower over bath, and there are two heated outdoor baths on the deck along with outdoor seating.  There are a handful of more grown up perks, such as Nespresso machines, tea/coffee facilities, bathrobes and slippers and a remarkably well-stocked minibar. It is a short walk downhill to the main Lodge.

There are 3 Tree Houses, all with two bedrooms – a fixed super king bed plus a children's bunk room with two single beds.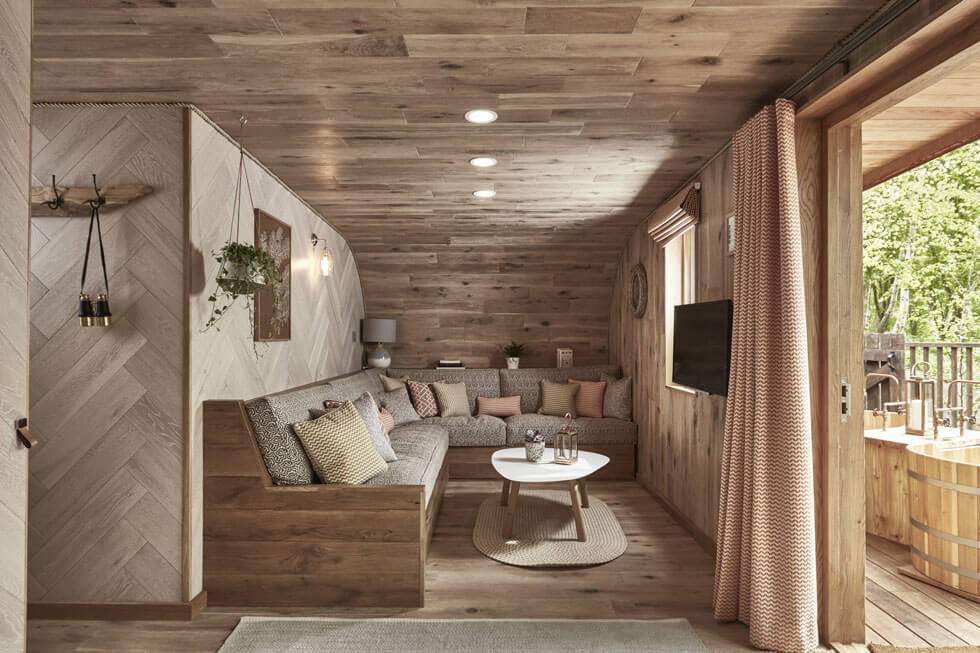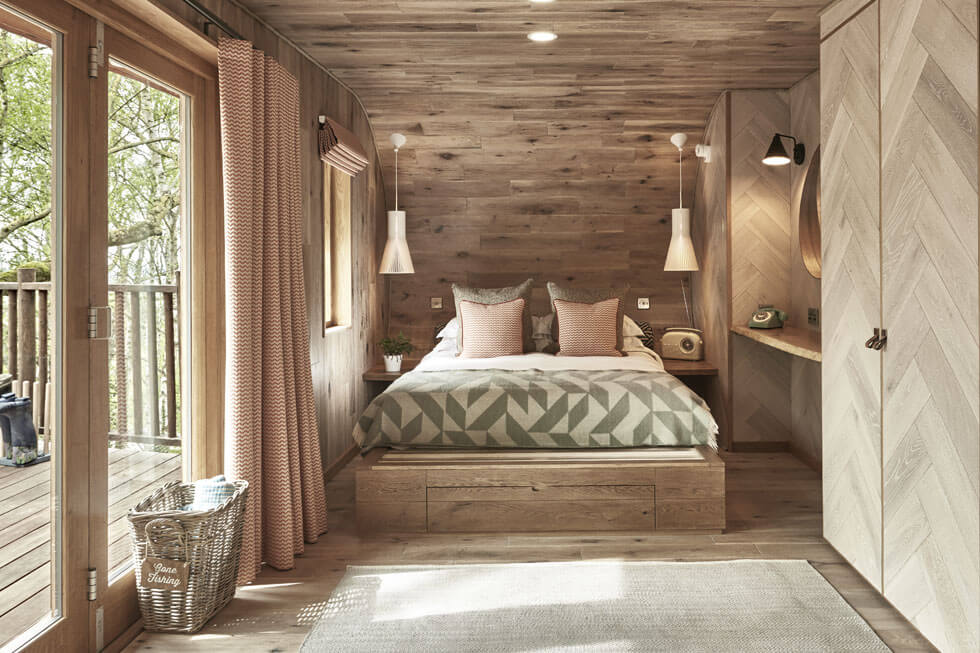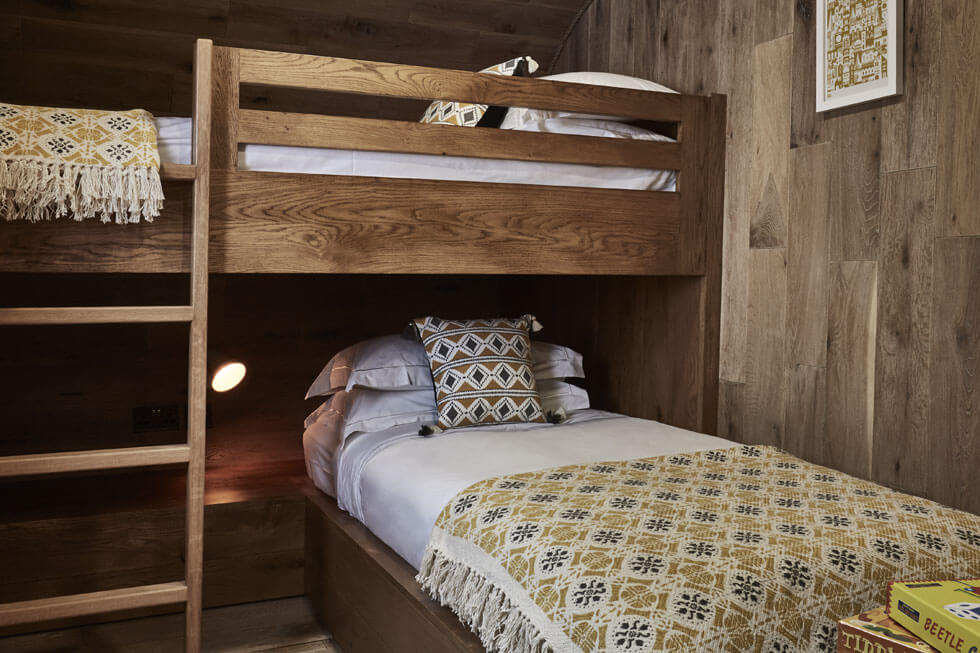 NB There is also one single bedroom located in the Farmhouse, only available when booking the estate exclusively to increase bedroom capacity to 64 bedrooms.