Where to Visit In Devon!
The county of Devon is known for its bountiful attractions and natural charisma, having been named "the best place to be" by Country Life Magazine. Whether you're interested in visiting some of the most breathtaking geographical sites that Britain has to offer, or if you're looking for some activities to include the whole family, Devon is teeming with excitement around every corner.
Canonteign Falls
Where to Visit In Devon – Canonteign Falls
Home to England's highest waterfall, a day at Canonteign Falls is an absolute must. Nestled in the beautiful Teign Valley, a photographers dream awaits.
In the eighty acres of ancient woodland you'll find glorious open fields carpeted in wildflowers and age-old oaks, and delightful lakes where wildlife and pond life flourish.
This location caters for all ages with a variety of countryside walks, a cafe offering locally sourced home cooked food, two play areas for children with a 30 metre zip wire(!) and a stunning panoramic view of the Teign Valley.
Lundy Island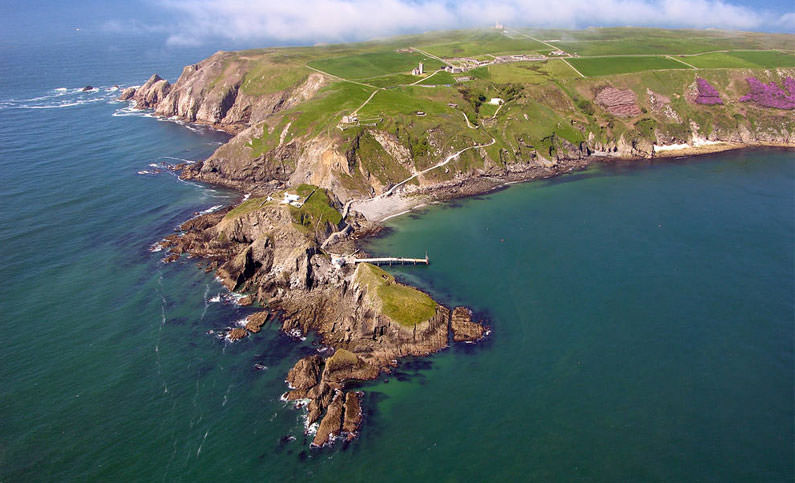 Where to Visit In Devon – Lundy Island
Situated off the coast of North Devon, three miles long and half a mile wide, Lundy Island is a 400 foot granite outcrop that sets itself apart from the hubbub of the modern world, serene and unspoiled.
Whether you live in, or are just visiting North Devon, a day trip to Lundy makes for an unforgettable experience. The isolated habitat for wildlife is often compared to that of the Galapagos. Just a short ferry trip away on the islands own 1958 vessel, Lundy is a walker's paradise of stunning natural, rugged beauty.
Yaraks Birds of Prey Falconry Centre
Where to Visit In Devon – Yaraks Bird Centre
Yaraks well informed staff and family of birds of prey provide a wide range of interactive experiences with their majestic animals. Observe elegant displays of unity between falconer and beast as they educate the audience with their plethora of knowledge. The hands on interaction, handling and flying of these birds will undoubtedly prove to be a memorable experience, particularly for the younger ages.
Complete with an on site cafe for hot & cold food and refreshments, Yaraks Falconry Centre in Cullompton is an extremely intimate connection to nature and a definite gem in the heart of Devon.
Buckfast Abbey
Where to Visit In Devon – Buckfast Abbey
The monks of Buckfast welcome visitors to their famous monastery — one of the very rare surviving monasteries in the UK. Prided on their self-sufficient lifestyle, the monks of Buckfast Abbey will inspire you to take a step away from your hectic modern lifestyle and reflect on how an unwavering faith can preserve ancient traditions and remain relevant in a possession-oriented society.
The Abbey church is a thought-provoking building, packed with the treasures of history exhibited for your visual and spiritual gorgement. With information points and shops selling a range of homemade products — including the Abbey's famous tonic wine — Buckfast Abbey is sure to be an awe inspiring visit for all.
Berry Pomeroy Castle
Where to Visit In Devon – Berry Pomeroy Castle
Berry Pomeroy Castle is the perfect romantic ruin with a colourful history of intrigue. Tucked away in a deep wooded valley, the dramatic and spooky remnants of what was once a magnificent structure loom in the ruined shell of its successor: the great Elizabethan mansion of the Seymours.
Founded in the 1560's and ambitiously extended from around 1600, their mansion was intended to be the most spectacular house in Devon. Never completed and abandoned by 1700, it has become the focus of blood-curdling ghost stories brought to life by the audio tour.
The beautiful grounds and woodland views ideal for walkers coupled with the recently re-opened cafe make this historical site perfect for amateur archaeological enthusiasts.
Stay in your own Castle for the night and really experience the area!
Killerton
Where to Visit In Devon – Killerton
Given to the National Trust by Sir Richard Acland because of his political beliefs, Killerton is one of Devon's greatest estates. At 2,590 hectares it is one of the largest the National Trust has acquired.
Enjoy the relaxed atmosphere as you explore their intimate family home and the famous Killerton gardens; experience the new costume collection exhibition to see the most elaborate outfits and try on replicas; see if you can find the bear hut and ice house as you wander around the hidden paths and discover the spectacular views.
And don't forget to uncover the myth of the dragon at Dolbury hill and complete your visit with a quality meal showcasing local, seasonal produce from the Killerton Kitchen restaurant!
As you can see, Devon is a hub of fascinating activity. So when you visit, don't miss out on these spectacular experiences. Or if you're not planning to go, perhaps these ideas will serve as the inspiration for a trip!
Tags:
Devon
,
Weekend Breaks