Stately Homes Available for Rent in the UK
Our portfolio of Stately Homes have been home to some of the most powerful and distinguished families throughout history. These magnificent buildings offer a real glimpse into the past, full of heritage and grandeur. The stunning formal gardens and grounds make the perfect setting for Weddings, a film location or photo shoot. Many stately homes have been in the same family for generations, and can provide a real home-from-home experience great for family holidays where you really can get away from it all and discover the peace and tranquillity that comes from being surrounded by your own estate. Get back to nature with walks through ancient woodlands, or curl up in the library in front of the fire with a great book. Many of these homes have stabling facilities so your horses can enjoy the holiday too and take advantage of the rural setting and acres of grounds.
Renting a Stately Home
Elysian Estates has a stunning collection of stately homes available for exclusive use hire in the UK, ideal for those who want to sample a taste of the high life without having to worry about the upkeep of these beautiful historic homes. There are stunning stately homes for rent throughout England and Wales, carefully preserved through the ages to the luxurious homes found today.
Whilst many stately homes were built centuries ago, they have been carefully restored and updated to satisfy even the most discerning of guests in the 21st century. None however have lost the sense of history and grandeur that can only come from these magnificent buildings, with beautifully furnished rooms and elegant antiques.
For many, they represent a bygone era of country living, with large estates and beautiful grounds coupled with fabulous spaces for entertaining, such as morning rooms or spectacular ballrooms where royalty and eminent politicians have been hosted throughout history. All of our stately homes for rent can be supplied fully staffed on request, giving a real insight into how high society live.
Renting a stately home for my 50th birthday party made the event one I and my family and friends will never forget!
Stately homes also make fantastic venues for film locations and photo shoots, or as an inspiring venue for corporate events.
Luxury Property Updates
If you'd like to receive our monthly subscriber only offers and details of brand new properties please click this button.
Your information will be held as per our GDPR policy.
Stately Homes for Weddings
Stately homes make absolutely stunning wedding venues, with romantic furnishings and elegant décor making them a popular choice for couples looking for a luxury setting for their wedding. Stately homes have particularly impressive facades which not only look beautiful but provide a stunning backdrop to those treasured wedding photos.
The very nature of these properties mean they are large enough to offer overnight accommodation for many of the wedding party in luxurious bedroom suites, with a particularly beautiful bridal suite for the bride and groom to spend their wedding night.
Many of these beautiful mansions have their own wedding licence so you can have both the ceremony and the reception in the comfort and privacy of your stately home for hire, however if you are looking for a more traditional ceremony in a church, many of these properties were built near to the local church so nobility did not have far to travel to attend services.
The beautiful spacious rooms are fantastic for wedding receptions, and many can be hired with a full complement of staff to ensure your day is absolutely perfect.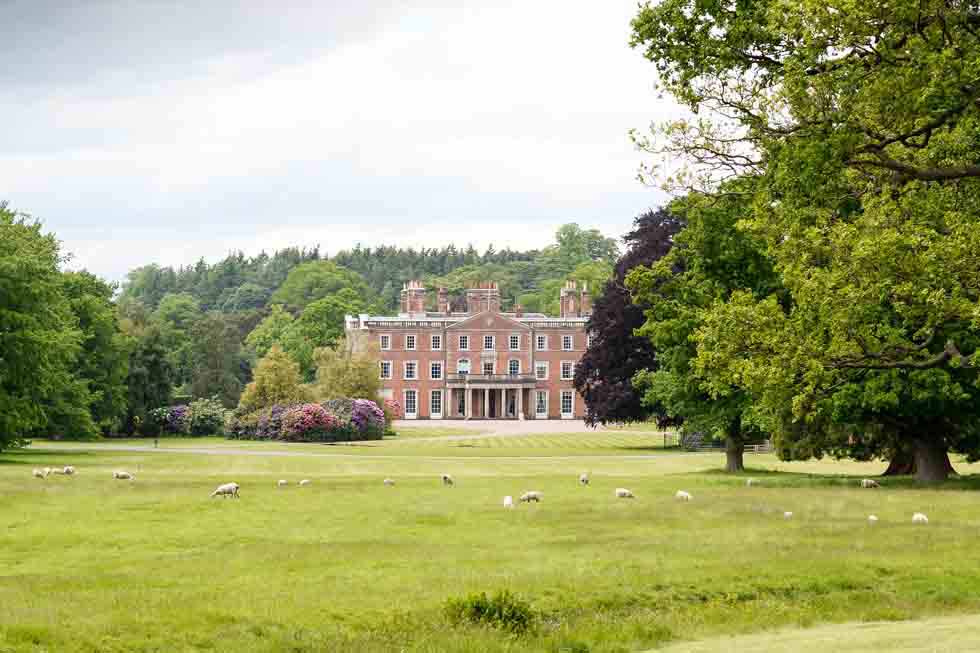 English Stately Homes
The English countryside is world renowned for its magnificent stately homes, built by the wealthy and the aristocracy as their country residences following the demise in popularity of castles during the 1500s, when comfort rather than defence became a priority. They represent a bygone era of luxury and nobility, created as a status symbol for some of the greatest families in Britain of the time.
The creation of stately homes reached a peak during the 16th and 17th centuries, particularly under the reign of Elizabeth I when the famous estates of Brocket Hall, Burghley, Chatsworth and Longleat were built in decadent style. These properties were used to entertain their esteemed guests, including nobility, aristocracy and wealthy landowners, providing much needed respite from city living.
Stately homes were created in large estates, with their residents using the land for hunting and other pursuits. The grounds nearest the house were immaculately tended with beautiful landscaped gardens and formal terraces, and often benefited from croquet lawns for summer games.
Elysian Estates has a beautiful selection of stately homes for rent, so you can step back in time and enjoy living the life of nobility with 21st century luxuries. From the beautiful Georgian villa of Hill Place, the magnificent Brocket Hall, and the majestic Excalibur Hall, we are sure to have a wonderful stately home for you.
Find the right Luxury Property for you
If you can't find a luxury property click HERE as we have a wealth of knowledge on other properties which are not listed.
18 Properties
Your Properties
Key

Number of Bedrooms

Number of Guests

Number of Bathrooms

Hottub available

Swimming Pool Available

Tennis Courts

All en-suite bathrooms

Cinema

Games Room

Dog Friendly

Will host Stag & Hens

Snooker Table

Spa treatments available